The Spartans Defeat The Bears For First Win Of The Season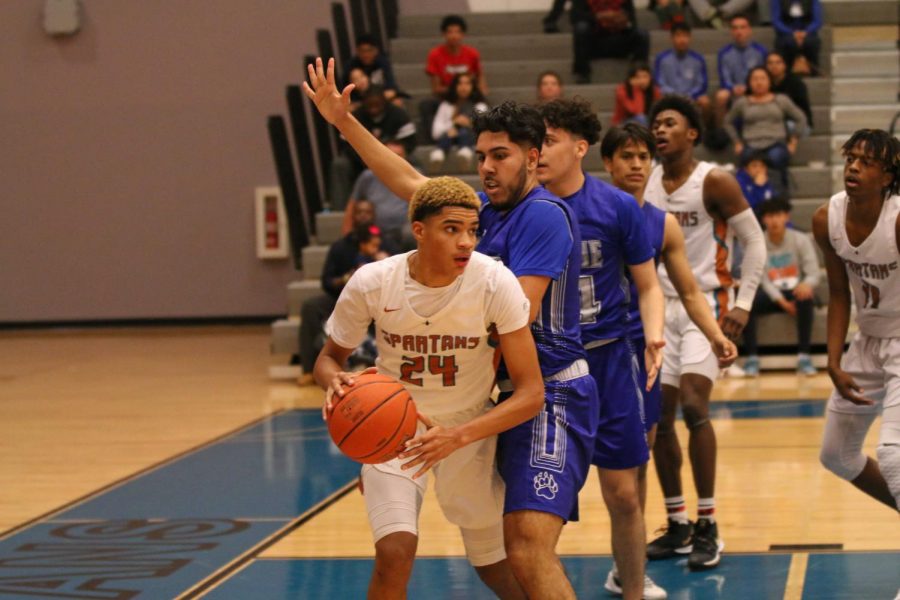 The Pebble Hills boys varsity basketball team did just enough to get their first win of the season as they outlasted the Bowie Bears to pull out the 57-52 win at home Tuesday evening, Nov. 19.
Seniors Isaiah and Elijah Davis looked to give the Spartans a spark in their first game back since fulfilling their football obligations.
Starting offensively, head coach Arturo Escobar made it clear, he was going to attack the post with their big man, junior Jorge Villalobos.
"Jorge is a big part of what we do, he needs touches," Escobar said. "Good things happen for us when we get the ball to the paint. He has improved each year and he is taking advantage of his opportunity."
This was a very close game for Pebble Hills with the biggest difference in the whole game being a lead of 12 during the first quarter with the score being 22-10.
The momentum turned in the second as Pebble Hills had troubles at the offensive end, and were only able to score one point.
Isaiah talked about the issues during to put away the Bears early.
"We just gotta have more chemistry around the board," Isaiah said.
According to Escobar, it was the team being sloppy, but after a talk on the sidle line, the team quickly adjusted themselves scoring another 20 points, their second highest scoring quarter of the game. Despite the win, the team still has lots to work on to progress through the season.
Bowie head coach Daniel Martinez was not happy, yelling every few minutes running onto the court, causing the referee to yell at him multiple times.
During the last two minutes of the game, Pebble Hills was able to score two points from free-throws, and a 3-pointer to secure the 57-52.
The highlight of the game was when Isaiah stole the ball and ran down the court for a slam dunk.
Pebble Hills looks to travel to Dallas, TX for the Cedar Hill Tournament Thursday, Dec. 5.