NHS Hosts Fifth Bi-Annual Blood Drive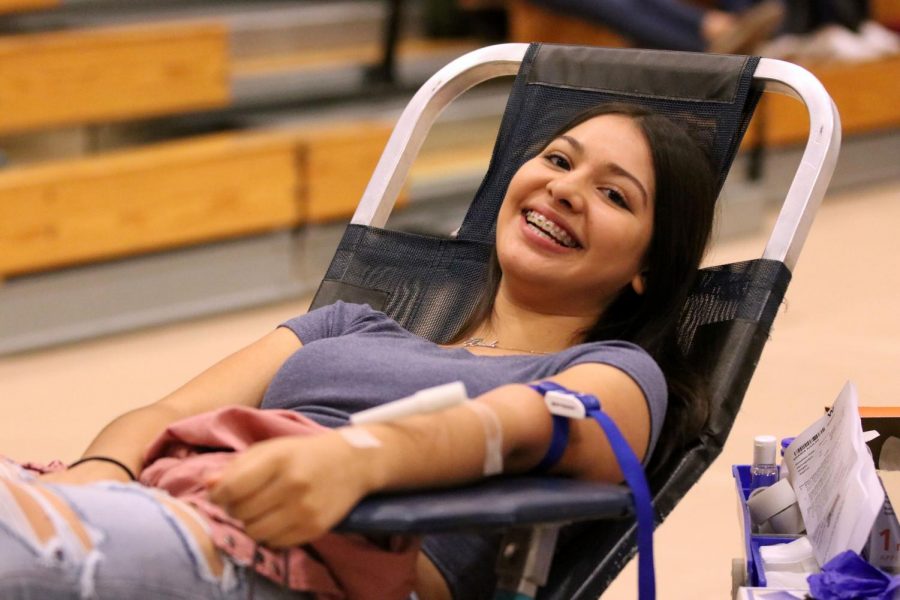 Olivia Pearson, Reporter
September 27, 2019
The National Honor Society hosted their bi-annual blood drive Sept.27 in the small gym. For the fifth year, NHS has collaborated with United Blood services now known as Vitalant.
The NHS sponsor Amanda Garay speaks about the tragic event that took place Aug.3 and points out how the community has grown to work together in order to provide more resources in case such an event were to reoccur.
"After the incident early on in August kind of gave a new purpose and meaning to our community to hold blood drives in the event that, that would ever happen again, but I just think right now every one just kind of in the mindset that we just help each other all the time in case in the future we need it," Garay said.
In order to donate blood there is a list of requirements one must meet when it comes to weight and age. As soon as they walk in to donate blood they are asked several questions regarding their health.
Senior Montserrat Mora was one of the first to arrive only to find out that she was unable to donate for not fulfilling the weight requirement.
"I was underweight, I feel bad because I really wanted to donate but I guess I have to eat more," Mora said.
Students with rare blood types are always encouraged to donate due to fact that their blood type is the most compatible with others. A variety of blood types are are in high demand; students with O-positive are encouraged to donate because of its compatibility with others.
Senior Jed Taiyegir states on how he personally feels he is doing a good thing due to having such a rare blood type.
"Knowing my blood type in general, that I am O-positive and thats the most needed blood it makes me want to donate more because I know I can help so many people at once", Taiyegir said.
NHS will be hosting two more blood drives throughout the school year giving students an opportunity to donate again.